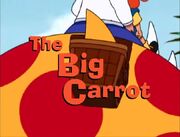 The Big Carrot is an episode from season 1.
Characters
Maggie
Beast
Hamilton
Nedley
Description
Maggie, Hamilton and the Beast come upon a gigantic carrot, and a very strange little rabbit named Nedley who speaks in rhymes. Nedley is too small to pull up the big carrot, so Maggie, Hamilton and the Beast give him a hand. When they finally haul the carrot out of the ground it doesn't prove to be as delicious as expected, so they turn it into a great big birdhouse.
Notes
This episode marks the debut of Nedley.
Ad blocker interference detected!
Wikia is a free-to-use site that makes money from advertising. We have a modified experience for viewers using ad blockers

Wikia is not accessible if you've made further modifications. Remove the custom ad blocker rule(s) and the page will load as expected.