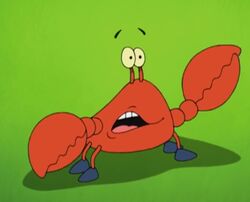 Sidestep is a very cranky crab who lives in the Beach of Nowhere Land and one of the supporting characters in the series.
Looks
He is a red crab with four legs and two large claws.
Appearances
Sidestep has several appearances in all three seasons.
Counterparts
Mr. Krabs (SpongeBob SquarePants, both are crabs)
Donald Duck (Mickey Mouse, both are bad-tempered)
Oscar the Grouch (Sesame Street, both have short tempers)
Sebastian (The Little Mermaid, both are crabs)
Grumpy (Snow White and the Seven Dwarfs, both have bad tempers)
Strong Bad (Homestar Runner, both are red and bad-tempered)
Grouchy Smurf (The Smurfs, both are short-tempered)
Mr. Rude (Mr. Men, both are red and have short tempers)
Ad blocker interference detected!
Wikia is a free-to-use site that makes money from advertising. We have a modified experience for viewers using ad blockers

Wikia is not accessible if you've made further modifications. Remove the custom ad blocker rule(s) and the page will load as expected.